| | |
| --- | --- |
| |  Extended to July 21, 2018  Deadline of Full  Paper  Draft Acceptance  Notification |
| |  Extended to Aug. 31, 2018  Deadline of Final Full  Paper Submission |
| | |
| | |
Organizer
Host
International Sponsors
Other Partner
Other Related Conference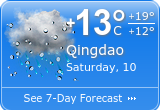 Welcome Letter
The 12th International Topical Meeting on Reactor Thermal-Hydraulics, Operation, and Safety (NUTHOS-12) will take place in Qingdao City, Shandong Province, China, on October 14-18, 2018, organized by Chinese Nuclear Society (CNS) and jointly co-sponsored by International Atomic Energy Agency (IAEA), American Nuclear Society (ANS), Atomic Energy Society ofJapan (AESJ), Korea Nuclear Society (KNS), German Nuclear Society (KTG) and other societies. It's hosted by State Power Investment Corporation Research Institute (SPICRI) served as the innovation platform, strategic decision support institution for SPIC which is devoted to nuclear power development and provide green energy in China.

NUTHOS aims to provide an international nuclear communication platform for information and technology exchange in engineering experience, latest research results and future demands on reactor thermal-hydraulics, operation, and safety. Thermal-hydraulics is considered as an important cross-cutting subject in the development, operation and safety assessment of advanced nuclear systems. Operation and Safety of nuclear power plants are two key issues in the sustainable development.

The first NUTHOS was held in Taipei in 1984 followed by Tokyo (1986), Seoul (1988), Taipei (1994), Beijing (1997), Nara (2004), Seoul (2008), Shanghai (2010), Kaohsiung (2012), Okinawa (2014) and Gyeongju (2016). NUTHOS has attracted high interests of the international nuclear community in nuclear thermal-hydraulics, operation and safety and has become one of the major international conferencesin these fields.

We do hope you can make time in your busy schedule to attend NUTHOS-12. We sincerely expect that you can accept this invitation and share your ideas. Your gracious presence will be ourgreat honor.
Looking forward to meeting you in Qingdao.
Sincerely yours, 
Dr. Lianrong Li
Organization Committee Chair of NUTHOS-12
President of SPICRI